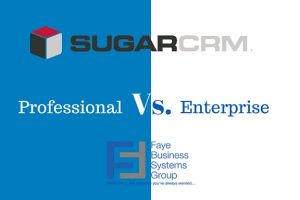 Sugar helps you make personal, one-to-one connections with every customer. With Sugar, your entire organization can build better customer relationships that set you apart from your competitors, grow sales, improve satisfaction, and drive more effective marketing campaigns.
With Sugar PurePrice®, companies get a clear and simple price – with no hidden fees. However in recent weeks Sugar announced that the popular Basic Sugar Workflow function (Notification/Alerts, Auto-update, Email Templates, Change Management) of Sugar Professional is being phased out. This means that if you're a Sugar customer who utilizes Workflows, you will need to upgrade to Sugar Enterprise to continue to use them.
All Sugar customers will be receiving information on upgrade promotions offers soon, but we wanted to take a moment show you the basic differences between price and features of Sugar Professional and Sugar Enterprise.
Sugar Professional is currently $40 per user, per month and subject to a minimum of 10 users. Basic Sugar Professional features currently include:
Sales automation and forecasting
Marketing lead management
Support automation
Call center automation
Reporting & Dashboards
SugarCRM Mobile
Cloud or on-premise deployment
15GB storage
Unlimited Studio customizations
Unlimited online support
Click here to view a Sugar Professional Product overview, but make sure to disregard Workflow information.
Sugar Enterprise is currently $65 per user, per month and subject to minimum of 10 Users. Basic Sugar Enterprise features currently include:
Revenue Line Item Level Opportunity Tracking Forecasting
Product Level Quotes
Role-based Views
100 Concurrent Customer Self-service Portal Users
SQL-Based Reporting Access
Support for DB2, Oracle, SQL Server (On-site)
12×5 (hours/days) Email and Phone Support
60GB storage
Click here to view a Sugar Enterprise Product overview.
You can view a full Sugar Editions Comparison sheet here, but disregard the Workflow section for Sugar Professional.